Here it is!!
Brother Christian's new EP, all tracks recorded completely live in studio, in one take. And theres even an amazing +plattform remix!!
Check it here: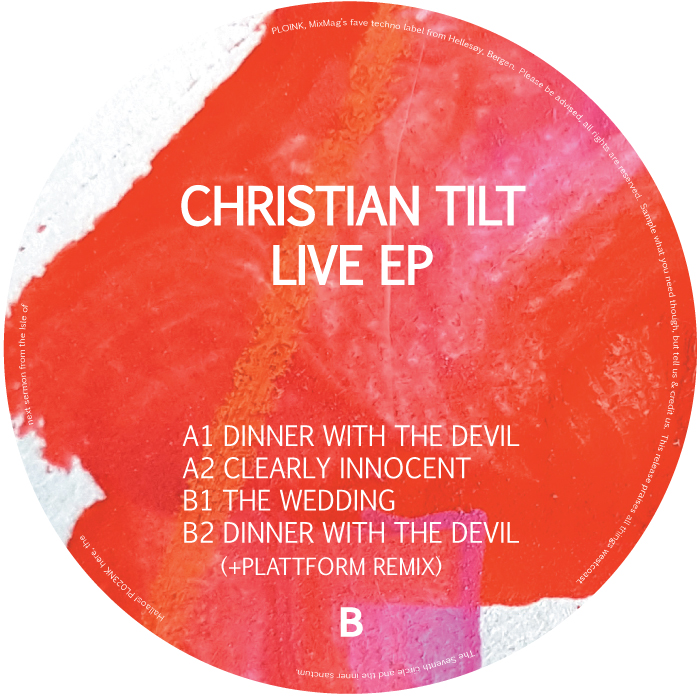 And the djs love it!
* Laurent Garnier (none)
cool EP
* Slam (Soma)
Thanx
* David (Truncate)
Plattform mix for me thanks
* Dax J (Monnom Black)
thanks!
* Tom Peters (Kompakt, Get Physical)
The Wedding is ace
* Setaoc Mass (Work Them Records, SK_eleven, Animal Farm Records, Initial Berlin)
A2 for me!
* Sophia Saze (Dusk & Haze)
the wedding! great release!
* VII Circle (Rapid Eye Movement, Stem Records)
Cleary Innocent is great!
* Gabriella Vergilov (Enemy Records, Palinoia,, Thema Recordings)
Tracks 2,3,4 for me.Thanks!
* FBK (Frictional, Xplor, Marcel Dettmann Records)
great techno release. banging! Plattform remix is the good kind of warped.
* Rush Plus (Rush Plus DC)
+plattform remix is sick!
* Markus Suckut
The Wedding for me!
* Volvox (Discwoman)
kinda useful
* David Martin (Dimensions Soundsystem)
Nice, Clearly Innocent & The Platform Mix are the picks for me. Thanks DM
* Joris Voorn
Downloaded, thank you.
* Marco Faraone (Uncage / Rekids / Drumcode)
Plattform remix is fat! great one! thxxxx
* Mr Ties (HOMOPATIC)
lovely label wish i could do also a remix on this, very plus plus plus plattform really enjoy
* Sapphire Slows (Kaleidoscope, Nous Disques, Not Not Fun)
I like The wedding. Powerful track.
* AWB (Taapion Records)
love both version of dinner with the devil. thanks!
* Randomer
love the platform remix
* Santiago Salazar (DJ S2)
"The Wedding" and +plattform remix for me!
* Opuswerk (Arts, Krill Music)
+plattform's remix for me. Dubby nasty, groovey. Ace.
* Henning Baer ((Grounded Theory))
Dinner with the devil and its remix for me!!
* DJ Spider (Plan B Recordings, The Trilogy Tapes, KilleKill)
Cool release.
* Shlomo (Taapion Records / Delsin)
10/10
* Jon Hester (EDEC, Les Enfants Terribles,L.A.G.)
plattform Remix for me, thanks!
* Johannes Volk (Dolly / Axis / Sistrum)
Diiner with the devil + plattform remix are cool
* Matt Edwards (Radio Slave)
Thanks for the promo.
* Dimitri Kneppers (Planet E, KMS records)
Cleary Innocent and The Wedding are my favs. full support! thanks.
* Discrete Circuit (Tellerrand Rec.)
Nice Ep thanks!
* Dylan Hermelijn (2000 and One / 100% Pure / Intacto)
Nice one, thank you!
* Pablo Roman-Alcala (Beaner)
2,3 and 4 are good!
* Marco Effe (Break New Soil, Prism)
+Plattform Remix is the one for me. THanks
* JC Laurent (Hidden / Decoy)
+plattform Remix is perfect ! Good job, thanks
* Max (m50 / Area (Wave Music/Ethereal Sound))
heavy gear!
* P.Leone (Work Them Records, Rekids, EMISSIONS)
bomb ep~!
* Thor (Thor-Thule Records)
NICE TECHNO